A diagonal 4 sided stitch band
completes our whitework sampler
We are going to use 4 sided stitch, worked diagonally for this band of our whitework sampler.
The stitch can also be worked in a horizontal or vertical manner as explained on my other four sided stitch page. 
I hope you have enjoyed stitching along with me on this sampler.  If you have only just discovered this project you might like to use the links at the bottom of the page to navigate to the first page of instructions.

The zig-zag line in the diagram below is the section of chart we will be stitching.

The triangle row at the top of the chart is part of the previous band, included to help show you where this band is positioned on our sampler. To download a clearer chart in PDF format, please click on the picture.

This band is stitched with perle 8 thread in white or ecru (depending on the colour of your fabric). We will put tension on the stitches to form tiny holes in each corner of the stitch.
Each stitch is worked over 3 fabric threads as shown in the diagram below. Work each stitch in the direction shown by the arrows. This will form the squares on the front, and crosses on the back of the work.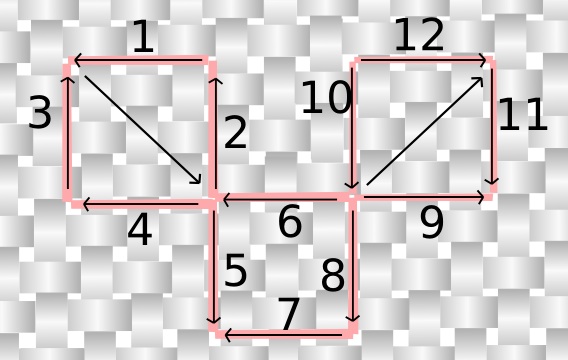 Return to top of  band 7 - 4 sided stitch
Go to part 1 of the whitework sampler
Go to band 2 - drawn thread work
Go to band 3 - satin stitch border and pulled double back stitch
Go to band 4 - diamond eyelet stitch
Go to band 5 - honeycomb stitch
Go to band 6 - three sided stitch
Return to Whitework embroidery
Keep in Touch with Stitchin'Times Newsletter