Pulled thread work for band 3 of our sampler
Welcome back to our whitework stitchalong.
Pulled thread work is used for the third band of our sampler and this month we will combine two stitches... satin stitch and pulled double back stitch... to create an effective wider band.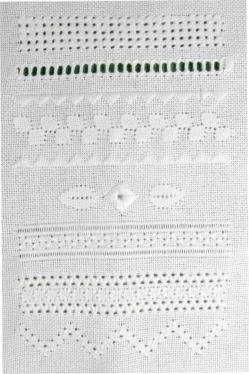 Satin stitch border
Put your fabric in a hoop with the previous row accessible.
Thread your needle with white Perle no. 5... about a 24 inch long piece will work well. Tie an away waste knot and then take your needle down near the top of your hoop.
Start by counting down 7 fabric threads from the row above, directly underneath the left hand edge of the previous row. Bring your needle up in this hole to begin the first row of satin stitch, then take it down over two threads to create the first stitch.
DO NOT PULL. These stitches will just lay on the surface, they are not worked with a tight tension.
Following the chart below, continue across the row lengthening and shortening the satin stitches where shown. Make sure you always bring the needle up on the straight edge, don't take short cuts, or the stitches won't lie smoothly.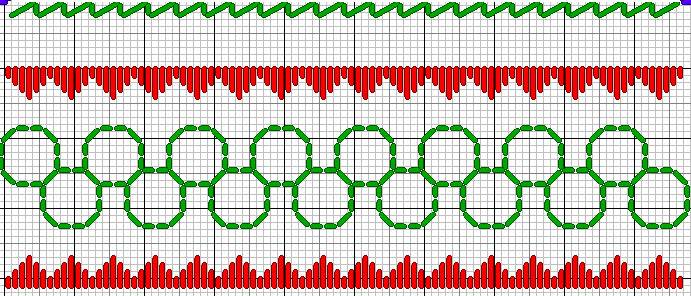 NOTE: the green line at the top of the chart below, is the bottom of row 2, you do not need to stitch that again, it is just there to help you position this row.
Pulled double back stitch
If you have done pulled thread work before you will know that the charts and diagrams bear little resemblance to how the finished stitching will look.
This is true for this stitch, as you may expect from the diagram below that your stitching will result in octagon shapes, but in fact this form of double back stitch will look like distorted rectangles when complete.
This time you will need to pull your stitches tightly to get the desired effect.
Following the numbers in the diagram below, and using the chart above for placement, come up at the straight end of each arrow and go down at the pointed end to create the stitches.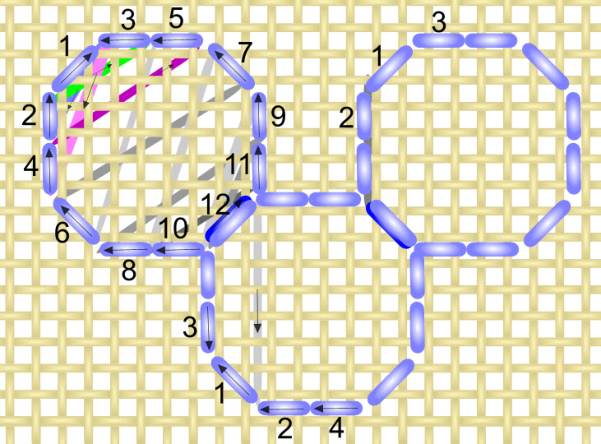 You will have threads criss-crossing on the back of your work as shown by the grey and coloured lines behind the grid. I have added arrows to the first few reverse side stitches to show their direction. They are worked in colour order... blue, green, pink, purple.
Stitch 12 will complete each shape, with another stitch being worked on top of it for the second shape.
Continue to alternate octagons across the row as shown in the chart.
To complete your band, repeat the satin stitch triangles with the straight edge to the bottom of your sampler, following the chart.
You will find the links to further bands in the sampler at the bottom of this page.  The sampler was first released, row by row in my newsletter. You can sign up for Stitchin'Time by using the form below.
Keep in Touch with Stitchin'Times Newsletter