Band 5 of the
white work embroidery sampler
We have reached band 5 of our white work embroidery sampler.
The photograph below shows the band we are going to stitch this time around. It consists of four rows of pulled satin stitch and a section of honeycomb stitch

The chart below shows this band with a tiny piece of band 4 so that you can line things up.
Now I know that the chart does not look like the photograph above! I assure you it is correct, the honeycomb stitch is worked as shown and with the right tension on the stitches will resemble the photo above.

Pulled Satin Stitch
OK, let us start with the pulled satin stitch rows.
These stitches are worked over 3 fabric threads and are pulled tightly, each row in the alternate direction, to create a ladder effect in between the rows.
So for the top row pull up when you complete each stitch, and for the 2nd row pull down towards the honeycomb stitch section. The direction of pull can be important in white work embroidery.
Please use the diagram below to work the top two rows of pulled satin stitch,continuing in the direction of the arrow.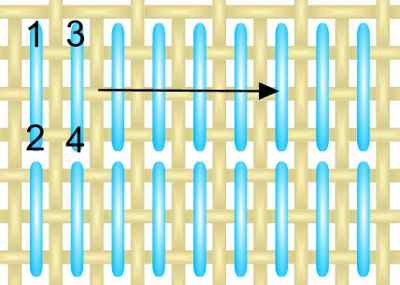 Honeycomb Stitch
After the top two rows we will work the honeycomb stitch area. this stitch can be worked in vertical rows but as we are only working a narrow band we will work it horizontally this time.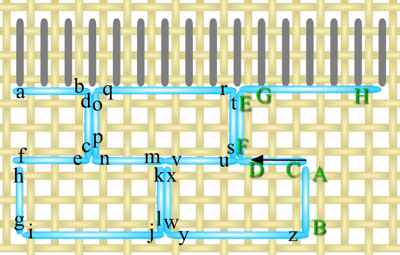 The grey stitches in the diagram above relate to the 2nd row of pulled satin stitch that we worked. They are there so that you can see where to position your honeycomb stitch row.
Follow the letters in the diagram. Although this stitch may seem a little complicated from the diagram, you will soon get into a rhythm with it. Pull firmly to draw the fabric threads into the right positions.
Complete the band by stitching a further two rows of pulled satin stitch as above.
Keep in Touch with Stitchin'Times Newsletter