Trying to find a stitch my grandmother used
by Janie
I'm trying to find a stitch my grandmother used in the 1940s. It looks like a square bird foot, or a comb with the some tynes (spaced out)going one way and then some going another way. Something like this _____l__l__l Then the long line again headed off into a slant. I can't find it in a book or on Google. My email address is djnute@yahoo.com

If you know this stitch, could you please tell me its name and how to do it? Thanks from Janie.

Dear Janie,

From your description, I have two stitches in mind that it could be. One is feather stitch the other maidenhair stitch Both stitches were used a lot on crazy quilt seams. Do you have a photograph you could send in so I could help you further?

I will be adding both of these stitches to the site in due course, with instructions on how to do them.

Here is a picture of maidenhair stitch with french knots on the ends that I did on a crazy quilt postcard.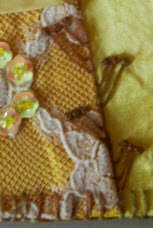 Regards,

Carol