What is an ebook
After reading about my blackwork ebook you may be asking "what is an ebook?" 
Don't worry? Is nothing mysterious really.  Think of it as a computer file that is laid out in book form. A file that you can purchase and download onto a computer, then print or read off the screen as you wish.
Writing an e-book means that the author has less expenses, and can therefore offer his/her work at a much reduced price.
But you don't have to write your own book in order to make money from one.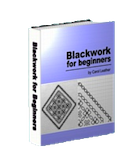 Do you have a stitching website?
Would you like to make 50% on sales of my blackwork book? It's easy to do and won't cost you anything!
Interested? I thought you might be. So what you have to do?
How to join the e-book affiliate program
My e-book is sold through Click Bank, a well-respected e-book reseller. All you need to do is open a free account and click bank, by following one of the links below. Then you could be selling my book in minutes, and offering useful resource to your website visitors.
Sign up now for your and click bank account and
start making money on my e-book.
Can I sell other products too?
Yes! As many as you want. With your free account you can pick any or all relevant e-books from the collection and offer them to our visitors, while making money for both yourself and the author. Click bank has over 10,000 products to choose from!
But I don't know how to sell!
That doesn't matter. I'll take care of that. Just direct your visitors is to my sales page using the special link from click bank and leave it to me. When someone purchases in e-book you will receive an email telling you, and then 50% commission on the sales. There is 50% add! All at no cost yourself.
you're welcome to use the graphic of my e-book cover to help with your promotion. Just copy and paste the picture below onto your page.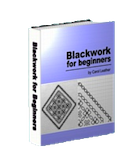 Then tell your visitors a little bit about the book, don't try to sell it, just talk about it as if you were chatting with a friend. If the readers of your page are interested in learning the technique of blackwork, the chances are they will pop over and see what it's all about.
Hopefully this page has helped answer your question "what is an e-book" and "how can a make money for an e-book without writing one myself?".
Regards Carol
---
---
Sep 21, 19 05:48 AM

Simple blackwork Christmas designs to download and stitch for cards, coasters or decorations. Choose from star, bell, robin or blackwork angel patterns

Sep 21, 19 05:32 AM

Learn how to do blackwork embroidery? Find instructions, patterns and ideas for this, and lots of other types of needlework

Sep 16, 19 04:14 PM

A guide to the basic embroidery stitches used in my free online needlework lessons. This is building into a comprehensive guide to hand embroidery stitches