Blackwork pattern library - pattern 2
This page explains how to work a blackwork pattern. If you were looking for blackwork designs to download, please check my online catalog.
This attractive blackwork pattern is super simple to stitch. There are also ways to vary it included in the following step-by-step instructions.
This is a small repeating pattern that gives a medium tone to the stitched area. I call it paper boats as it reminds me of those little folded boats we made as kids to float in the local pond.
To learn more about blackwork fill patterns in general, please click on the link. Or why not download my ebook, Blackwork for Beginners.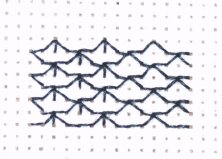 Instructions for working
We will use double running stitch to work this blackwork pattern. This avoids any unsightly shadowing showing through from the back of the work, which we may see if we were to use backstitch.
The diagram (right) splits the construction of the pattern up into rows. We take each stitch over one Aida block or 2 evenweave fabric threads. 
Using 1 strand, follow the first row until you reach the right-hand outline of the area you are filling.
Work the pink stitches in the diagram in the opposite direction in the second row, following the arrows. 
Change direction again for row 3. Here I have coloured the existing stitches in black, with the new ones again in pink.
Reverse direction again to complete your first tiny paper boats.
Row 5 of this blackwork pattern is a repeat of the first row.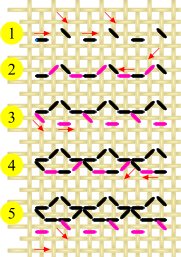 Continue in this way to fill the area. Your work should look almost the same on the back as it does on the front, although you may have some slightly different stitches at the edges where you changed direction for the next row.
To achieve the effect in the photograph below (left), I added vertical rows of running stitch. If you add these, the pattern will look different on the back as shown in the photograph below (right).


Keep in Touch with Stitchin'Times Newsletter