Dear



Welcome to the August 2016 newsletter. I do apologize for missing last month's issue.

If you were with me back in June you will know that we went off on a mega family holiday to Devon, at around the time the newsletter would normally have gone out. As often happens, after returning home things were so busy I needed another holiday to recover! No such luck!. Our next one isn't until mid October.

The month wasn't entirely void of needlework though!

There were 4 generations of us on this vacation. My parents, us, my daughter and her husband, and my two eldest grandsons.

My mother and I took advantage of a quiet evening after a busy day sightseeing to do some needlelace. She wanted to learn how it was done after seeing the pages on the site. I started her off with a simple square and after a little awkwardness in holding the work she did great! It was such fun spending quality time together.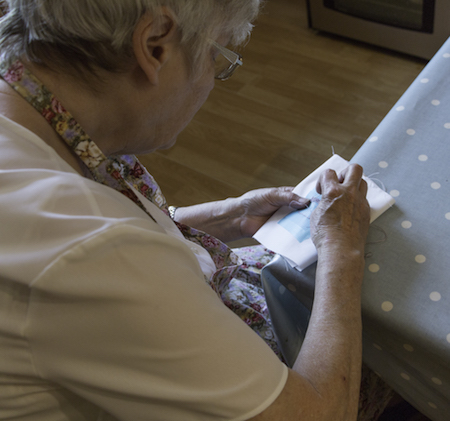 One of her other hobbies is dollhouses and I can forsee lace table cloths and bed covers being added to her miniature rooms very soon.

Talking of bedcovers…

One of our days away included a visit to Arlington Court, a stately home that also hosts the National Trust Carriage Museum. Of course one thing I always look for in such grand houses is needlework items, and I wasn't to be disappointed. As there was so much to see I wrote a page on the site where you can see photographs of all the wonderful pieces on display. You can view the page here…

Another new page on the site is for needlepoint lovers. It shows how to work Leaf Stitch. This is a fun, textured stitch and I am looking forward to seeing what you can do with it.
Full Speed Ahead?
Creating the new pages is so much quicker now we have Superfast Broadband. I'm loving it! Although living in the rural countryside is not without it's problems. Just two weeks after the new exchange box was up and running, we had a torrential thunderstorm which flooded it! Three days with no Internet was NOT fun!

After having an empty house next to us for months it is nice to have neighbors again. Cip and Edith, from The Netherlands, and are learning about the slow pace of live in the English countryside. I hope they don't mind the noise later this month when we have a window removed from the back end of our lounge and French doors fitted leading out onto the patio. Hopefully we will have some nice weather left after its done so that we can enjoy the easy access to the garden before Autumn sets in.

Just before signing off, I wanted to thank all those who kindly wrote to me about my health issues after the last newsletter. I am currently awaiting results of some blood tests which will confirm which type of diabetes I am dealing with. Your caring thoughts were much appreciated.