Dear



Firstly my apologies for the fact that this is supposed to be the end of April newsletter. It slipped a little.

I mustn't forget to say thank you for all those who wrote to me about Skye last month. I am happy to say she eventually recovered well and is now as boisterous as ever, even though she is almost 10 years old!

Next, I must say thank you to two of my lovely stitching fans.

Jan pointed out to me that although she knew I had written some e-books she was unable to find one of them on the site. I investigated and she was correct! The link to it was buried and even I had trouble finding it! Ooooops.

So I have now added a section to the Navigation bar to make them both easy to find. Thank you for alerting me to my mistake, Jan.

Thanks also go to Lynn who was having difficulty with a stitch and wrote to me asking if I could help. I have now added a new page to the site showing how to create Raised Buttonhole Stitch flowers. A really simple, but effective way to embroider pretty additions to your projects.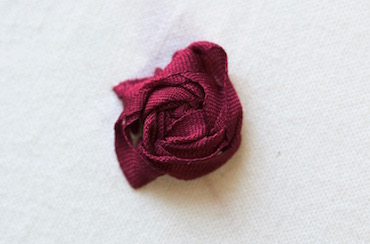 Busy month ahead
May is going to be a busy month for me. The first event begins tomorrow, when we are having a new phone line installed, ready for Superfast Broadband later in the month! Yay! No more waiting for pages and pictures to upload in their own sweet time.

At the end of the month, we are off on a family holiday. And I mean family - there will be four generations of us! My parents, me and hubby, my daughter, her husband and my two eldest grandsons. Phew!

I already know how some of the evenings in the caravan will be spent.

My mum has asked me to teach her needlelace after she saw my tutorial uploaded on the site recently. At almost 80 she learns best with someone there to guide and help her. I am hoping we will have good light to work by, as my daylight magnifying lamp isn't really portable.

My daughter also wants lessons, this time in crocheting Amigurumi toys. I recently made a cute elephant for my niece's 3rd birthday and Becky fell in love and wants to make some of her own.

In addition, I have scouted out a craft shop that holds workshops, near to where we are staying, so us three girls will be taking part in at least one together, while we are away!

As members of the National Trust, we will also try to find a stately home in Devon, with samplers or other needlework items on display to check out.
Good Health on the horizon?
I know you all like to hear how my dogs are getting along. Poppy is fine, and as affectionate as ever, always trying to steal a cuddle in my lap whenever I sit on the sofa. Skye, feeling left out, tried to do the same, but she really is TOO BIG for my lap! She was laying half on me a few weeks back when I noticed a lump in her front armpit.

Of course, it was off to the vets with her, and they recommended removing it so they could check what it was. Luckily it turned out to be nothing sinister and she was sent home stitched up.

All went well, until the day after the vet removed the stitches. Skye, being her normal spaniel self, managed to rip open her wound! So it was back to the vet to be patched up.

This time she was stapled back together under a light sedation.

Just two days later she came in from the garden with blood all down her leg! Another trip to the vet and she was booked in to be put under again for the wound to be repaired.

Health wise I have two dates on the calendar as well. Many of you already know that I was diagnosed with Diabetes in 2014. Well things are not improving on that score and the doctors have revised my diagnosis from Type 2 to most likely type 1.5, (late onset type 1) and next week I will find out whether I have to go onto multiple daily insulin injections. Hopefully I will then be more alert and have tons more energy for my stitching and writing. Wish me luck!

This appointment with the Specialist is then followed up by one with the hospital dietician. That WILL be interesting. I wonder what she will advise a Coeliac Diabetic to eat?
NEXTMONTH
Lastly, just a heads up, as we won't be back till the end of the first week of June, the next newsletter will also be a little later than usual.