Happy New Year!
Happy New Year! How are you doing on keeping your stitching and crafting New Year Resolutions?
My daughter wanted to learn how to crochet granny squares, so although not exactly NEEDLEwork I got the hooks out and we had a fun girly Sunday afternoon as I showed her how to create them.
She took to crochet like a duck to water, and has already made around a dozen squares at the last count. The end result is going to be a throw for her sofa, so she needs to make a few more yet. Taking on a big project like this can be rather overwhelming. You might feel more comfortable tackling something smaller when learning a new technique.
Kindle needlework books
One of my goals for this year is to learn how to get my ebooks on Kindle. At present they are both available from the site in pdf format.

It would be great to hear from you, as to which format you prefer. Would you like to see them on your Kindle?

I recently rewrote the page for my Blackwork for Beginners page in a much more personal way. I would love your feedback on whether it reads well or if it is TOO personal.
Your Favorite Needlework - Poll Results
Talking of feedback, do you remember filling in my survey on my home page last year? I asked you for your favorite needlework techniques and well over 1000 of you took the time to vote. Well, the results are in!

And the top five were all within 4% of each other! They were…
Needlepoint 13.2%
Surface Embroidery 12.6%
Blackwork 11.1%
Hardanger 10.5%
Cross Stitch 9.4%
Thank you so much for taking the time to fill in the survey and also for your comments that accompanied your votes. It has given me an idea of what sections of the site to build up further and also those techniques that you want to learn more about. Feel free to drop me an e-mail to share your favorites if you missed the survey.
Feather Stitch
As surface embroidery was high on the list of favorites, I added a new page last week giving ideas and instruction on the Feather Stitch. This has to be one of my favorite surface embroidery stitches, as it is can be delicate or chunky and can curve any way you want it to go.

I had such fun stitching the samples for you, and you will also find two videos on the page. I created one for single feather stitch and another for double feather stitch.

Don't forget the check out the main embroidery stitches page for links to all those I have added to the site so far.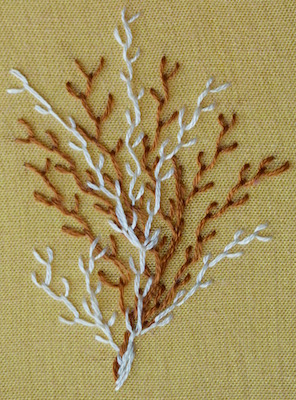 Subscribers
I just checked and there are currently 6132 other subscribers, in addition to yourself, to my quarterly newsletter! Wow! I knew there were lots of other people that loved needlework as much as I did. It is so lovely to be able to share my passion with you all.

Don't forget to share the newsletter with your stitching friends, as they may like to sign up too.

I won't keep you from your needlework any longer. Thanks for reading this far, and happy stitching.

Kind Regards,

Carol