Dear



I hope those that celebrate it had a Happy Easter and enjoyed the long weekend, even if you had rough weather like we did here in the UK.

There are signs here that Spring weather is on its way though, with hyancinths, daffodils and other flowers blooming in the garden. I, for one, am certainly looking forward to the warmer days.

At least stitching is a hobby that can be enjoyed even when the sun isn't shining.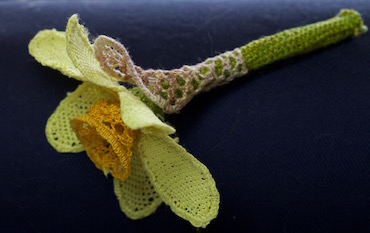 Stumpwork and needlelace
This past month I have been building a Stumpwork and Needlelace section on the site. My bunny tutorial has been revised, restitched and rephotographed and a new introductory page written about the technique of Stumpwork (or raised embroidery).

As needlelace is often incorporated into stumpwork designs, there are also two new pages for beginners to this form of lacemaking.

First a pretty little heart that explains how two basic needlelace stitches are worked - corded single brussels and double brussels.

Once you have got the hang of detached buttonhole stitches you might like to try creating your own 3D needlelace daffodil. This free tutorial adds a third stitch to your repertoire, Pea Stitch, which is a pretty lace pattern worked in two rows.
Stitches of a different kind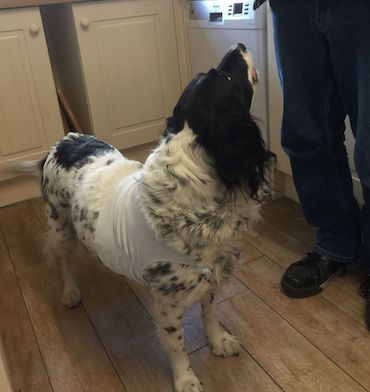 I know you all like to hear how my dogs are getting along. Poppy is fine, and as affectionate as ever, always trying to steal a cuddle in my lap whenever I sit on the sofa. Skye, feeling left out, tried to do the same, but she really is TOO BIG for my lap! She was laying half on me a few weeks back when I noticed a lump in her front armpit.

Of course it was off to the vets with her, and they recommended removing it so they could check what it was. Luckily it turned out to be nothing sinister and she was sent home stitched up.

All went well, until the day after the vet removed the stitches. Skye, being her normal spaniel self, managed to rip open her wound! So it was back to the vet to be patched up.

This time she was stapled back together under a light sedation.

Just two days later she came in from the garden with blood all down her leg! Another trip to the vet and she was booked in to be put under again for the wound to be repaired.

As they couldn't dress the wound due to its position, poor Skye had to wear one of Roger's old t-shirts to stop her getting to the area. She was NOT amused.

After running out of suitable attire this morning she had to resort to wearing a sports bra! Poor Skye, she does look funny, but it is doing the trick. We have to take her down the garden on the lead and no walks off our premises so at least the villagers won't be able to laugh at her.

I have seriously considered embroidering something on her "clothing" LOL.

Well that's it for this month. Speak soon.

Carol www.needlework-tips-and-techniques.com