Dear


Stitching helped when times were tough
What with the world being turned on its head, you haven't heard from me in a while, but I am restarting my regular newsletter so I can share my love of needlework with you and let you know that I'm still here to help.
Needlework proved to be an anchor in my life during the lockdown. I would go as far as saying it was the only thing that kept me sane! Whenever I felt lonely or upset I could turn to my needlework and get lost in my stitches, or write about them.
Where does my inspiration come from
As you may remember, I also love the natural world, with many of my blackwork and cross stitch designs featuring wildlife. I received an e-mail asking if I could share what inspired me to design my blackwork rhino The Warrior, something I was only too happy to elaborate on.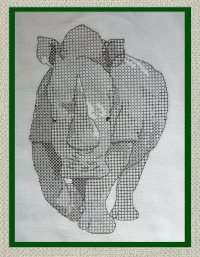 I am now going through my designs and including the back story for each one. With two day jobs at present I am sure you will understand that this won't happen overnight!

However, I have already completed the blackwork animals, flowers, figures, and starter kits, along with the lacemakers. You can access all of these from the following page if you are curious about what I am up to.

blackwork-embroidery-patterns.html If you care to share any feedback, whether you enjoy reading these snippets or find them totally unnecessary, I would be happy to hear from you.
My new book
I have also been busy planning a beginners book on hardanger.

As I start writing it, I would love to run each section past you for your honest feedback. It won't be pretty at this early stage, and there will definitely be parts that could certainly improve, but whether you are new to the technique or an avid hardanger stitcher already, your input would be invaluable.

There is no obligation of course, I am happy if you just enjoy my newsletter. You can ignore the link to the draft (that will be included in future newsletters) and just read the rest.
Updates to the site
If you haven't visited the site for a while you will also note that it has a fresh new look and some slight reorganistation. I am still working on this, so if you spot anything that looks odd, I promise I will get it sorted, but feel free to drop me a line to alert me to the issue.

As you can tell there is a lot going on at this end, including charting a design which I hope to get up on the site in the near future.
Your subscription
I understand that you may no longer be interested in my newsletter so do unsubscribe if you do not wish to continue receiving these e-mails. However, I would love it if you stay with me, there are lots of new exciting things to come in the future.

Your friendly stitching guide,

Carol

https://www.needlework-tips-and-techniques.com

------