Thread painting - art from your needle
Thread painting, also known as needlepainting or silk shading, makes use of long and short stitch to produce works of art on fabric.  
I first tried this as a teenager and it just didn't gel for me. In my fifties I had another attempt and succeeded in discovering the beauty that is attainable with this technique.
It wasn't until I was brave enough to stitch with a single strand of embroidery floss that I achieved the soft shading effect. Of course the right choice of colors helps too. I also learned that coming up through the stitches for subsequent rows avoids the "holes" that occur when you push the needle down through them.
The term long and short stitch is perhaps a little misleading, as only the first row consists of stitches of different lengths. This gives a staggered edge into which further rows of stitches fit. This way there isn't a harsh line where one row, or shade, meets the next.

Thread painting - Flower petals
I sketched out a simple 5 petalled flower, using a quilter's pencil which gave a line that washed out. Another option would be to use a disappearing ink pen to draw your practice shape. These come in two varieties, one needs water to erase the marks while the other disappears over a period of 24 - 72 hours.

I chose 5 shades of Anchor stranded cotton for this sample flower.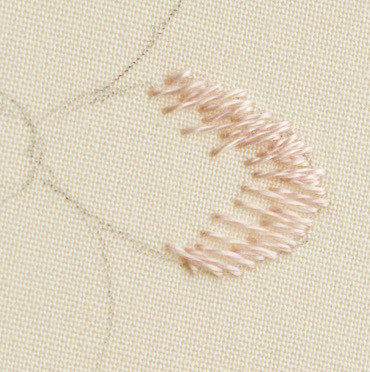 fig. 1 - The first row of long and short stitch
Using the second color I worked the next row by starting the stitches in different places, sometimes piercing the thread of the first row of stitches with the needle, At other times I slipped the stitch in between those in the first row. Again the bottom edge of the stitches is staggered.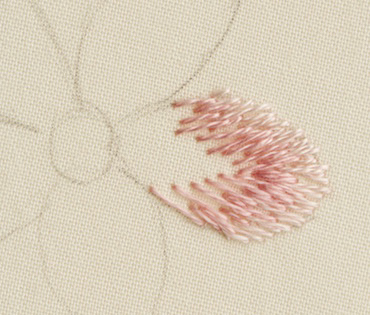 fig 2 - the next row of stitches in place
Each additional row of stitches fits into the previous, keeping the general direction of the stitches pointing towards the center of the flower. 
Fig 3 shows the effect after 3 colors have been used.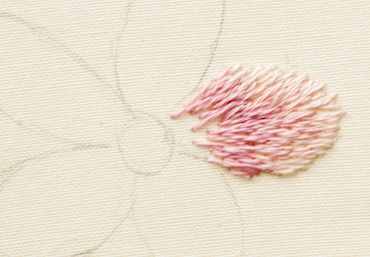 fig 3 - adding the third shade
I got carried away and forgot to photograph the 4th color for you, so fig 4 shows all 5 in place. I only used a little of the darkest shade to add a few straight stitches and a shadow around the underside of the petal.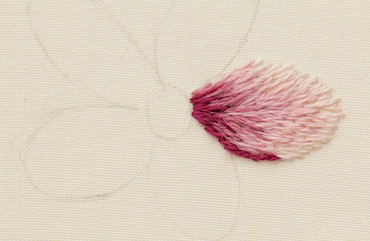 fig 4 - the darkest shade in place
I continued working each petal in turn around the flower. As you can see in fig 5, my drawing was rather lopsided. I changed the shape of the last two petals as I progressed through the embroidery. 
If you look closely at the petal I am working on in this photo you will see that the outside edge is not perfectly even. This can be "remedied" by working a row of split stitch around the petal first, then stitching over that when doing the thread painting.
However, some petals do have raggedy edges so it is not essential to do this extra step with all flowers.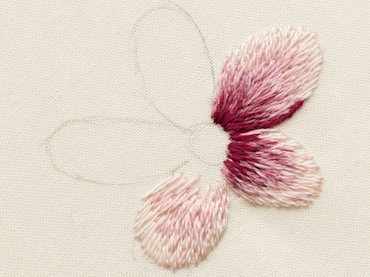 fig 5 - working the third petal
Finishing the flower
The photograph at the top of the page shows my completed flower sample. It was taken under different lighting conditions, which is why the colors don't match the step by steps. 
I used a hand dyed thread to work French knots for the center, and stem stitch for the stem.
It does take practice to get a nice smooth finish to long and short stitch, but it is worth persevering.
I thought you might like to see my first attempt, to encourage you to keep trying if at first you don't succeed. 
My apologies for the awful drawing! Apart from that, my main error here was that I used three strands of floss for this thread painting attempt.
Do you also see the holes where I went down through the existing stitches, instead of bringing the needle up through them?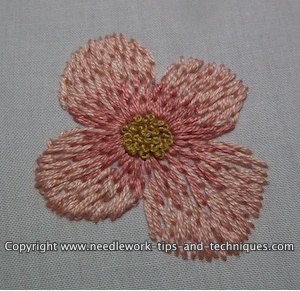 My first attempt at thread painting
---
---
Feb 17, 17 05:24 PM

I have an old cross stitch pattern calling for 18 count even weave. I can not find any! I would like it an off white as there are areas with white stitches.

Feb 04, 17 02:02 PM

A guide to reversible cross stitch. One of a number of cross stitch methods which gives your cross stitch a neat back

Jan 30, 17 05:54 AM

Homemade Valentines cards mean so much more than shop bought ones. Why not stitch your loved one a cross stitch card this year?