Blackwork fleur de lis patterns
Take the traditional fleur de lis (sometimes spelled fleur-de-lys) shape and add creativity. What do you get? Three variations in blackwork.
The direct translation from the French term would be flower of the lily, and the symbol has been used throughout history for various purposes.
It is to be found in Coats of Arms, flags, city emblems and seals, throughout the world. If you travel to the French Canadian regions such as Quebec or Nova Scotia, the Southern US states of New Orleans, Missouri and Louisiana, Scotland and England you will see the design utilized.
It has religious connotations also, with the three petals representing the Holy Trinity and the band around them, the Virgin Mary.
Each design below features my own interpretation of this decorative element.
Valour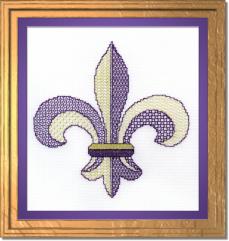 Design size: 7.5 x 7.6 inches
Wisdom
Faith
If your room has fleur de lis wallpaper, then one of these blackwork designs framed and hung, can really add a special touch.
---
---
Feb 17, 17 05:24 PM

I have an old cross stitch pattern calling for 18 count even weave. I can not find any! I would like it an off white as there are areas with white stitches.

Feb 04, 17 02:02 PM

A guide to reversible cross stitch. One of a number of cross stitch methods which gives your cross stitch a neat back

Jan 30, 17 05:54 AM

Homemade Valentines cards mean so much more than shop bought ones. Why not stitch your loved one a cross stitch card this year?