Dragon Cross Stitch 
Dragon cross stitch designs stand the test of time. They seem to be ever popular. The two humorous designs below were great fun to design and stitch, and I hope you will enjoy them too.
These dragons can be purchased and downloaded onto your computer in minutes. No waiting for the mail to arrive, and no postage costs!
Old Smokey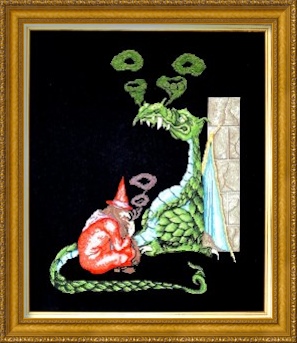 Design size 17.5" by 22" approx.
I wonder what these two friends are up to? The dragon and wizard sitting by the castle wall are worked in cross stitch. The smoke rings are worked in half cross stitch (just the bottom leg on the stitch, nothing complicated) to give a transparent effect. Blending filament in blue and green are used on the dragon's scales.
This cross stitch dragon is stunning stitched on black fabric but also works well on white or cream.
Download pattern for £6.00

Magic Moments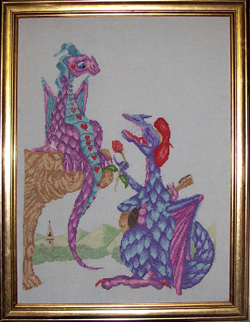 Design size 13.75" x 17" approx
Dragon Cross Stitch by Other Designers
Feb 17, 17 05:24 PM

I have an old cross stitch pattern calling for 18 count even weave. I can not find any! I would like it an off white as there are areas with white stitches.

Feb 04, 17 02:02 PM

A guide to reversible cross stitch. One of a number of cross stitch methods which gives your cross stitch a neat back

Jan 30, 17 05:54 AM

Homemade Valentines cards mean so much more than shop bought ones. Why not stitch your loved one a cross stitch card this year?