Medieval blackwork kits and patterns
The two patterns below are just a fraction of my whole range of blackwork kits and patterns.
If you wish to order either, or both, of these medieval designs (which include all materials and the chart) please call 01529 461056. You may order the charts as downloadable files below.
If you haven't tried blackwork before, you might like to check out my Blackwork for Beginners ebook.
Blackwork Knight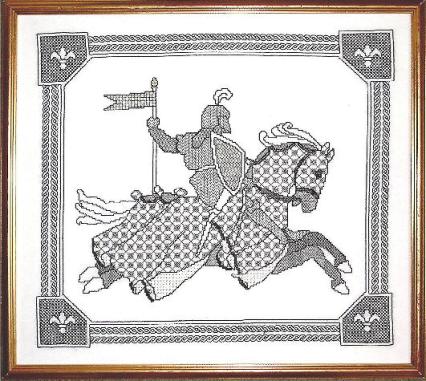 Somehow the intricate looking patterns in blackwork kits seem to call out to be used for a knight in shining armour.
This jousting knight astride his steed gives the opportunity to stitch the horse's finery as well. A touch of gold on his shield and the lining of the horse's garment adds sparkle. Gold beads decorate the centre of each "flower" on the horse's caparison or ornamental cloth.
Gwendoline
Simple enough for a beginner this medieval lady, Gwendoline, uses just black and gold threads. The pattern used for her dress is the same as the one used in the blackwork pears lesson.
Downloadable chart £5.00

Design size: 18 x 7.25 inches
---
---
Feb 17, 17 05:24 PM

I have an old cross stitch pattern calling for 18 count even weave. I can not find any! I would like it an off white as there are areas with white stitches.

Feb 04, 17 02:02 PM

A guide to reversible cross stitch. One of a number of cross stitch methods which gives your cross stitch a neat back

Jan 30, 17 05:54 AM

Homemade Valentines cards mean so much more than shop bought ones. Why not stitch your loved one a cross stitch card this year?